Twitter
Raycast extension to search or send tweets on twitter.com
Features
Login via OAuth (default)
Login with access tokens (optional)
Search Recent Tweets from your timeline
Search your own Tweets
Send Tweets (Thread)
Reply to Tweets
Retweet Tweets
Display Tweet content directly in Raycast
Search Twitter users
Tweet Metadata view like impressions (only with OAuth mode)
Login
The login works with Login with Twitter. Login with Twitter is activate as long as no access tokens are set in the extension preferences. When access tokens are set, the keys will be used for authentication and authorization instead of Login with Twitter. Also the API keys approach use v1 of the Twitter API. Login with Twitter use v2.
How to get the access token for the Twitter API (optional)
This step is optional and is not required for normal usage.
Register as developer

Create an app (this will be displayed next to your tweets)

Store the App-Key and the App-Secret in a secure(!) box

Then adjust the required permissions

Per default it is read-only. This is fine if you only want to read tweets.

If you want to e.g. like, retweet or send tweets, you should have at least read + write.

Make sure that you change the permission before creating user access tokens. You can only change permission for an existing user access token by revoking/regenerate the tokens. Clients which use the old tokens would not work anymore!

Create User access tokens
After all these steps you should have all required 4 tokens.
API Key/App Key
API Secret/App Secret
User Access Key
User Access Token
Store them in a secure box, twitter want display that again for you.
You also need to activate OAuth 1.0a for at least v1 API, otherwise you will get an 403 error. Activate v2 is recommended, but right now not required.
Click on your Twitter app on https://apps.twitter.com
Navigate to User authentication settings
Press Set up

Activate OAuth 1.0a
Choose your App permissions as you like
Set https://raycast.com/redirect as Callback URI
Set https://raycast.com as Website URL
Press on Save
v1 vs v2 API
Twitter has 2 APIs - v1 and v2. Your Twitter app needs to have enabled v1 access when you use access tokens, otherwise you will get a 403 error. The v2 API of Twitter is still in progress and not all features are available.
Actual impl. differences between v1 and v2 mode in this extension
v2 use 2 actions for Like and Unlike (v1 use one action which change it's state based on if the tweet is liked or not), because there is no way in v2 if the current user liked a given tweet or not
Retweet works as in v1, but un-retweet action needs to be done on the retweet itself. In v1 it was done on the original one.
Search User command open twitter.com in the browser instead of show the result because there is no API for that in v2
Showcases
Tweets from your timelime
Tweets from a specific user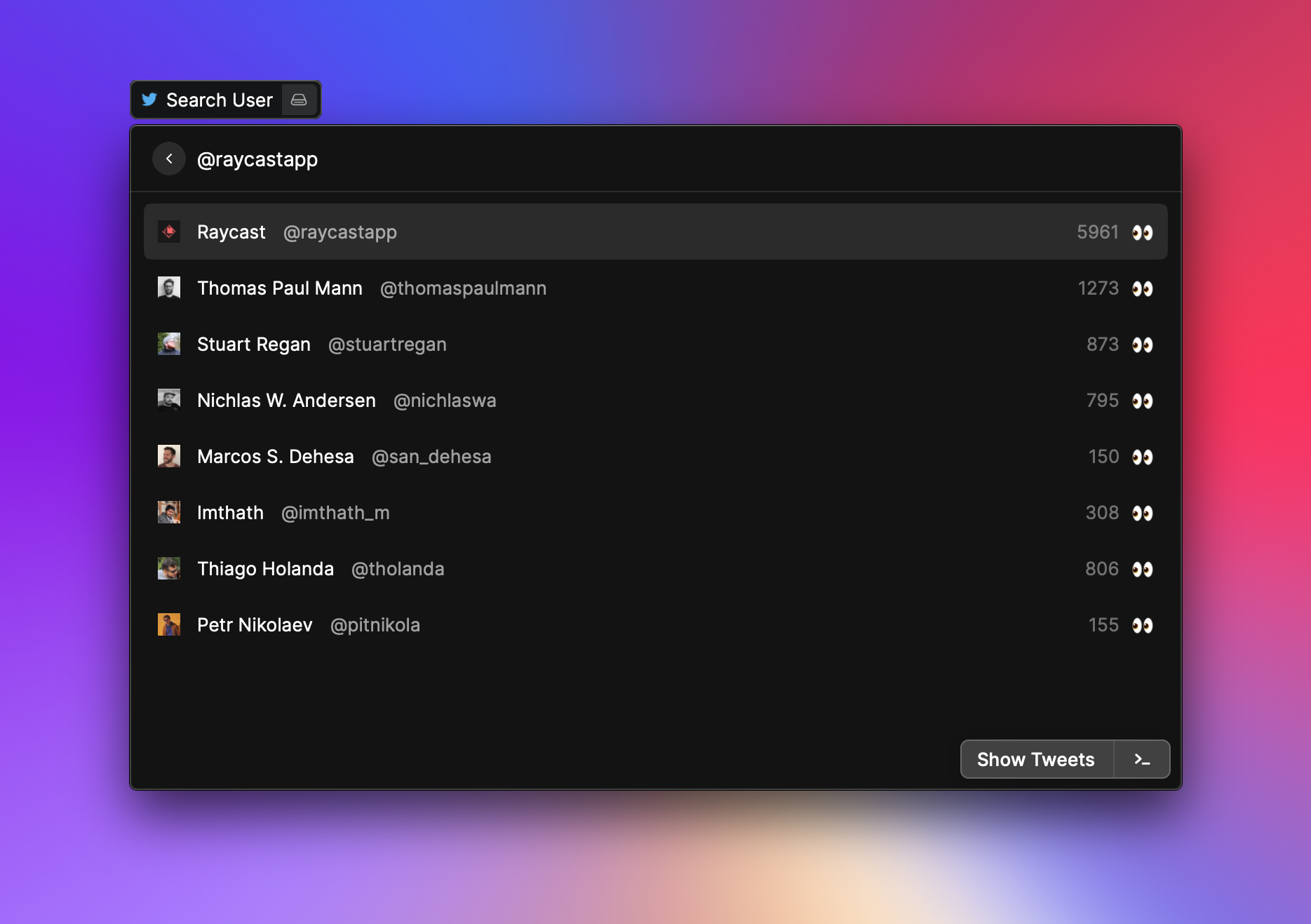 Display tweets directly in raycast
Display your own tweets